There's a very famous saying about putting all your eggs into one basket. Nothing could be more pertinent to the online publishing industry in 2018 than the phrase from Don Quixote. Relying on content to become 'viral' and bring more 'free' referrals than you ever imagined is a thing of the past. The viral king is dead, long live the pay-to-play king.
Facebook made changes to its news feed algorithm over the last year or so, and needless to say, many publishers have faltered under its traffic-squeezing adjustments. However, with some publishers merely trying to navigate the changes and A/B test to death how they can sustain growth like it's 2014.

Collateral Damage
While some publishers have taken a different approach and are trying to adjust to the changes, there are also many examples of publishers faltering greatly.
The age of pay-to-play has been around for some time, but it is ever more relevant as 'viral' companies like LittleThings become collateral damage in Facebook's push to become a friends-first and engaging-only platform. Many media execs across the globe are wondering 'who's next?'
LittleThings weren't the only company to experience a downturn in Facebook referrals. More than a dozen of the biggest names in online publishing are likely to be seeing a significant decline in their Facebook traffic as well. According to some Similar Web statistics, these and other publishers of similar size have been seeing between a 12% – 25% drop in Facebook referrals in the last few months.

No Free Lunches
Margaret Thatcher knew that 'there's no such thing as a free lunch'. There really isn't. 'Lunch' was free for many publishers in the years running up to 2017 on Facebook, but there is nothing wrong with using the Facebook Ads Manager, or other paid distribution channels that bring paid referrals to content, as long as they are managed correctly.
It's time the publishing industry learnt more from its tech-savvy friends in e-commerce and dive more into attribution by connecting both consumer & ad-revenue streams along with engagement metrics to their paid distribution efforts. These key analytics metrics have been trumped by virality and organic reach levels in recent years.
Each user coming from a different, device, geo or platform is worth varying amounts to a publisher looking to use the pay-to-play model. How do you know how much you can, or would be prepared to pay, for a particular user if you're not sure exactly how much they would be worth to you?

Experimenting
Facebook is not the only platform that can help publishers grow. The best way to effectively explore alternative options is to use them, test them and find out which one works for you and your content.
Buzzfeed's Vice President of Operations, Michelle Kepner, told Forbes that the company is experimenting with other platforms. "Any time we see a new platform or a new feature, we immediately begin testing it to see how it can work for us," Kepner stated. The rise of platforms like Pinterest, Instagram, and even Apple News for paid distribution means that there are many other places worth investigating for publishers.
A crucial part of experimentation with other platforms is using the right technology to analyze what could potentially work.
Using revenue attribution platforms, it is much easier to run trial and error campaigns on a smaller scale, without risking entire budgets, all the while optimizing the performance of content on any particular platform.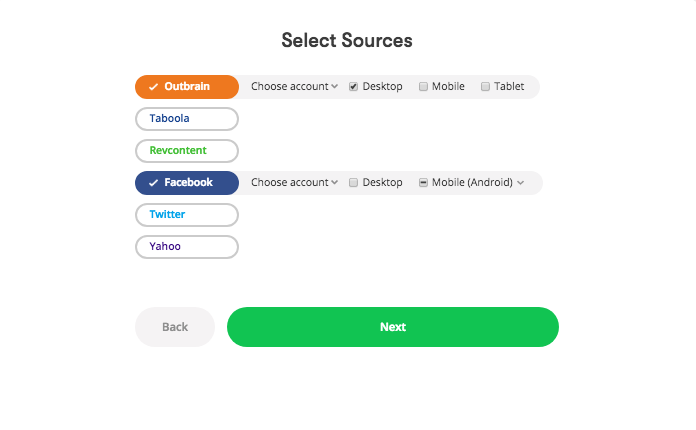 No Divine Right
There is no publisher with a divine right to base their entire, or most, of their business model on any sole traffic source or platform.
But there is no need to get mad, just get smarter.
Any by smarter, what is really meant is to accept the fact that diversification and acquisition is the only way to guarantee traffic levels, and hence revenue, in the online publishing world.
There is no need for any publisher to be caught off-guard when any one platform, like Facebook, changes their policies or algorithm with the abundant choice and options available in the pay-to-play world. Managed with the right technology, you can scale your efforts, and even come out ROI positive.